Product Overview
1/6 Storm Collectables Dennis Rodman Collectible Figure Exclusive Standard

[SM-1401]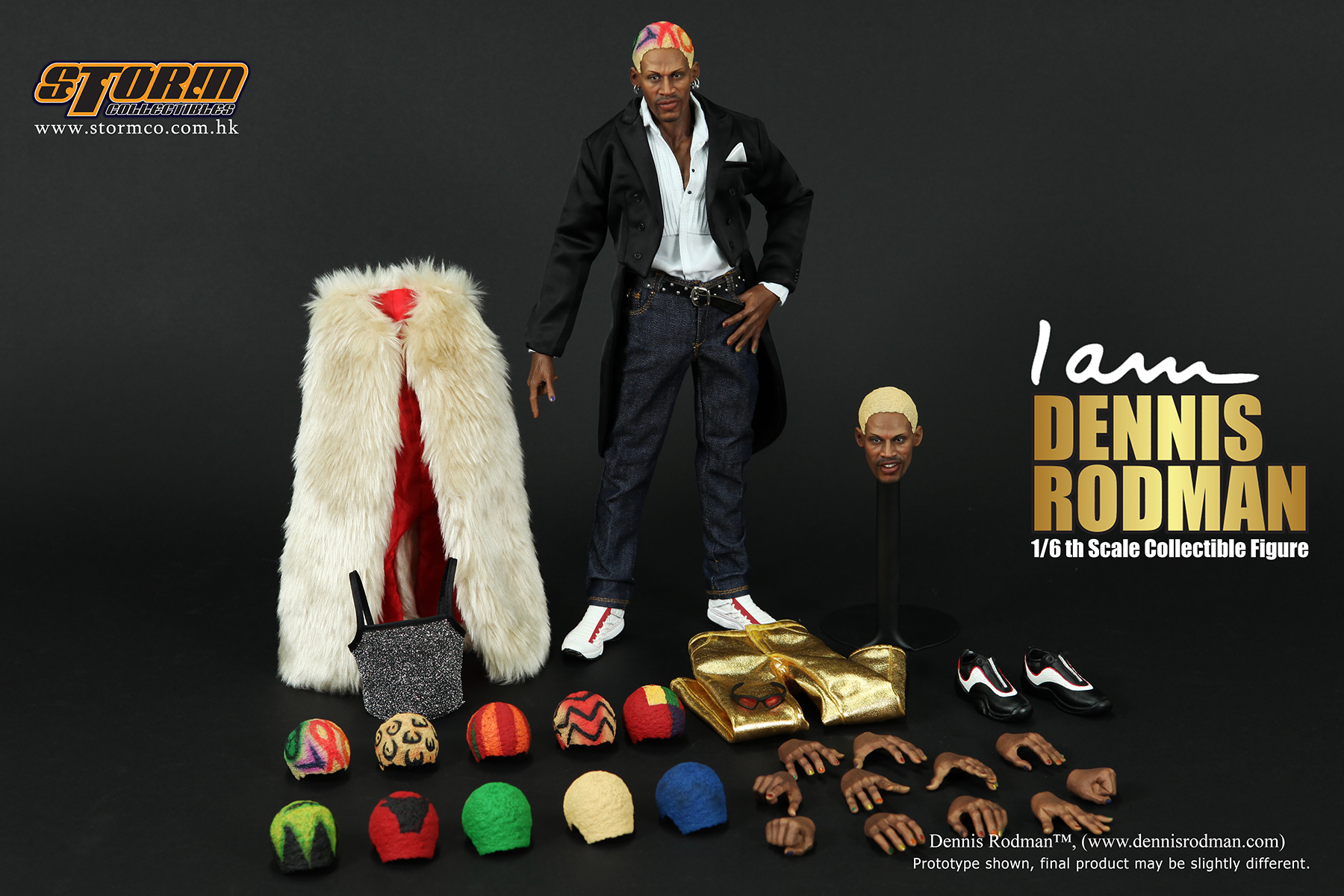 The 1/6th scale Dennis Rodman Collectible Figure specially features:
Authentic and detailed fully realized likeness of Dennis Rodman in his fashioned style during the mid 90s

Includes an exclusive additional make-up head sculpt for pre-orders

Real-like facial expression

Real-like facial expression with smiley face (teeth shown)

10 pieces of interchangeable Dennis iconic pattern hair sculpture

Approximately 35 cm tall

Muscular body with Dennis actual tattoos in the mid 90s

11 pieces of interchangeable palms
Costume:
1 set of casual suit including

One (1) outer jacket, one inner long sleeve

White shirt and 1 pair of jean

1 Sleeveless feather long jacket

1 Iconic sliver-shine vest

1 Pair of golden color pants

1 Pair of USA flag boxer

1 Black belt

2 pairs of shoes
Accessories:
10 different colors of changeable iconic hair sculpture

1 Pair of sunglasses

Figure stand with Dennis Rodman nameplate
# Prototype shown, final product may be slightly different
# Product details could be subjected to change without further notice
Dennis Rodman was the most influential superstar in the 90s, with the outsider image; his hair, tattoo, piercings, became fashion icon. He is also the best rebounder in NBA history, won five time NBA Championships, Basketball Hall of fame, and known as "The Worm" and "The Bad Boy",
Storm Collectibles is proud to be an official licensed company exclusively present the 1/6th scale Dennis Rodman Collectible Figure specially crafted based on his image in the mid 90s, highlighting the two set of highly-accurate head sculpt, ten pieces of changeable iconic patterned hair sculpt, and three set of his iconic outfit, and more.
This valuable limited edition 1/6th scale Dennis Rodman Collectible Figure is limited pieces worldwide for Dennis's fans in different parts of the world.
Reviews